Name:ZYF-DS1-2ZP Egg grader (104A)

Product Code:104A

Capacity:10,000 eggs/hour

Function:Accumulator, candling, grading, auto packer
Details
Features:
-- Constructed from high quality stainless steel for great durability and hygiene.
-- Equipped with color touchscreen PLC and can sort eggs into 4-7 grades.
-- Including Accumulator, candling booth, printing, auto head turning, egg grading & counting, auto-packer and manual collection conveyor with capacity of 10000 eggs/hour if you have optional egg printer.
-- Head turning makes sure the eggs are perfectly orientated with the bigger head (air chamber) on top for longer storage before getting packed.
-- Auto-packer includes single dropset, manual egg tray sender and output conveyor. Empty trays must be manually placed in the egg tray sender, allowing the sender to send the empty trays to where the eggs will drop from. The single dropset unit drops the eggs into10, 12, 15, 18, 20, 24 egg carton and 30 egg tray automatically. The output conveyor will transport the carton or tray with eggs to the end of conveyor.
-- Can be connected with the rod conveyor from chicken shed.
-- Connecting with the 202A egg washer main machine to build ZENYER 302A egg processing line with capacity of 10000 eggs/hour.
Configuration

Auto packer

4

3

2

1

Manual packing

0

1

2

3

Sizes (Max.)

4

5

6

7
-- Auto-packer and manual collection conveyor can be used for any sizes.
-- One auto-packer can pack one size only, manual collection conveyor can pack for maximum of 2 sizes.
Egg grader

Model

ZYF-DS1-2ZP

Product code

104A

Capacity

10,000 eggs/hour

Grading accuracy

±1 gram

Grade

4

Power

3.8 KW, 50HZ

Voltage*

380V, 3-phase

or

220V, single phase

Dimension(L*W*H)

9.13*5.27*2 M

Net weight

700 kg

Gross weight

1100 kg

Function

Accumulator,candling booth,head turning,egg grading & counting, auto-packer, manual collection conveyor and optional egg printer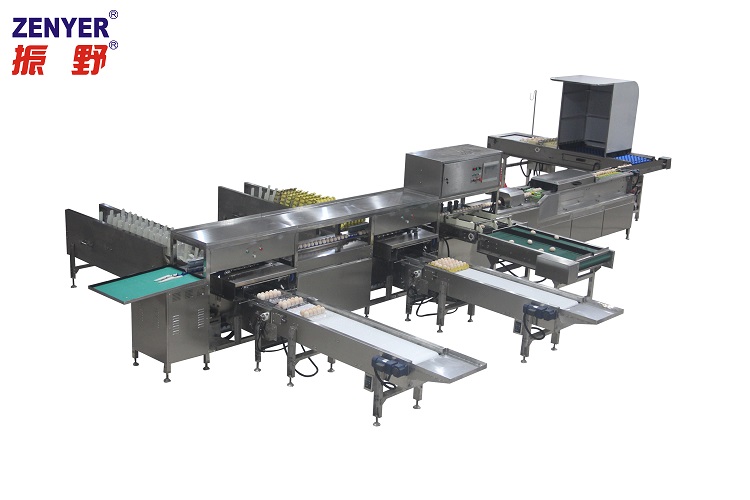 ZENYER 104A egg grader (with 2 auto-packers and 1 manual collection conveyor)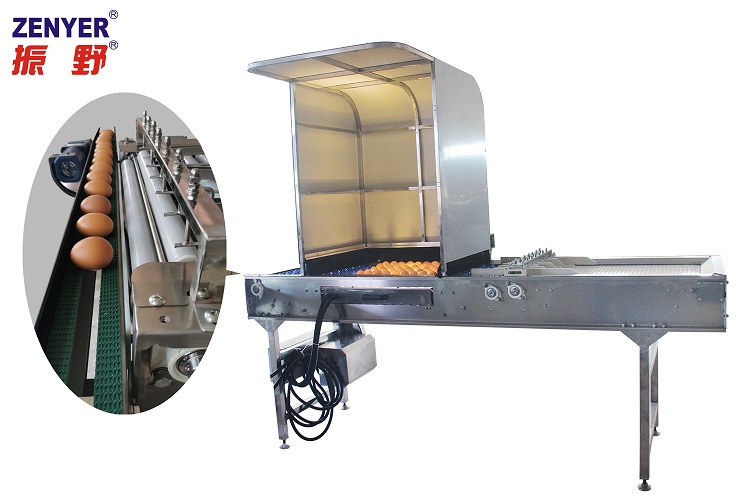 The 605A accumulator includes the Orientator which can direct 6 lines of eggs into 1 line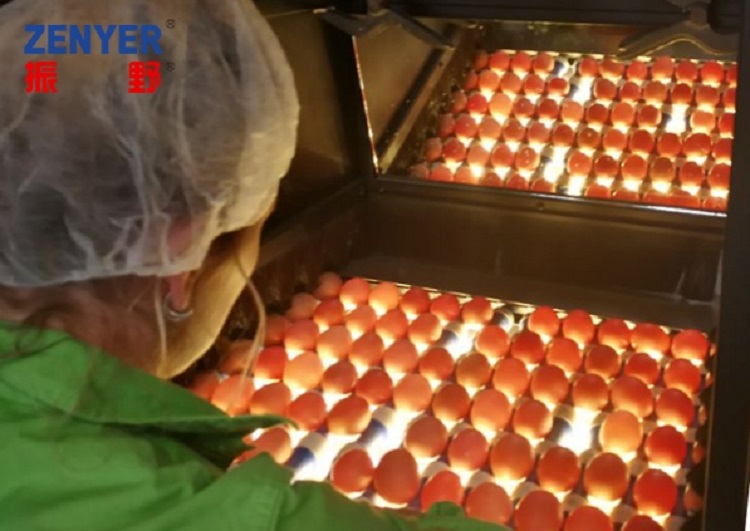 The 605A accumulator includes 6-row LED candling booth with candling cover and mirror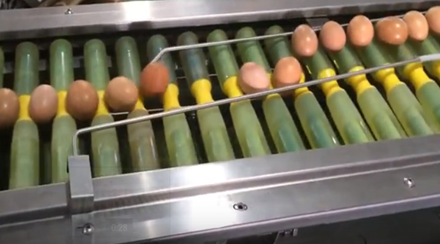 Egg head turning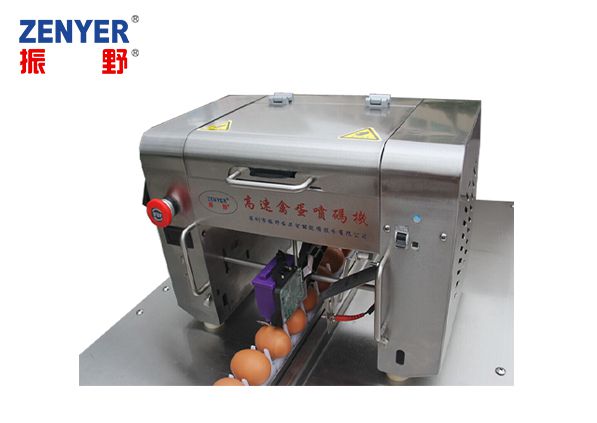 ZENYER 401H Egg printer attaches on the 104A egg grader
For ZENYER 104A egg grader standard configuration: Only $99,000.00
Consist of:
-- The 605A accumulator(including candling booth)
-- the 104A main machine
-- Auto-packer (2)
-- Manual collection conveyor (1)
Option:
--The 602 Vacuum egg lifter: Only $1,980.00
-- The 401H egg jet printer: Only $4,950.00
Price including GST
(Pre-Order)
* standard configuration is 3-phase,please remind us if you need single phase.
ZYF-DS1-2ZP Egg grader (104A) Brochure